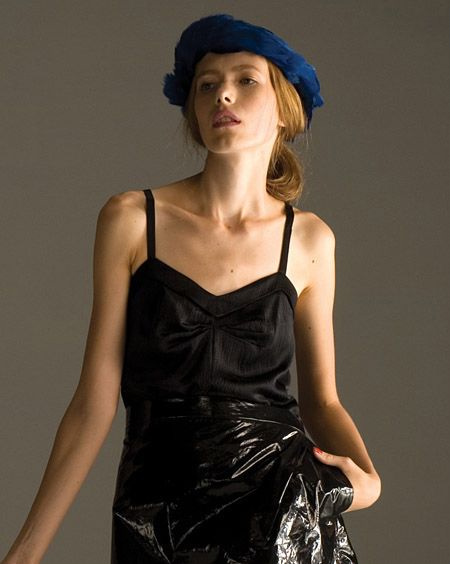 The Sale: Carla Knapp is clearing out some of her Mischen stock from the current season, as well as previous seasons and vintage items from her personal stash for 50-85% off retail prices from today till Saturday at 255 W. 36th st, 11th Floor.  Items start as low as $25 for original samples, so hurry!  
The Strategy:
Maybe it's because Ashley is such an amazing saleswoman, but I've been a lover of Mischen way before I started working at Fiftytwo Showroom, and after dressing up in the Spring 09 samples all market week, I couldn't wait to get my hands on some pieces that I could take home with me at bargain prices.  A clothing hanger can never do justice to Mischen clothing, and you really need to see the garment on a living body to breathe life into the plentiful folds, intricate pintucks, and delicate layers---preferably a tall lean body that matches up to Carla's modelesque stature.  While I am severely lacking in height, and nearly drowned in half of the clothes (on the plus side, her tops work perfectly as dresses for me!), I took my sweet time and tried on nearly every single item there, twice, before honing in on what I needed for Fall.
The Stuff:
 I left with one boxy loose fitting dress for $75, perfect for everyday wear, which I picked out because it's made of one of Mischen's custom fabric prints, which Carla designs each season.  
I also scored with a wool pencil skirt with an asymmetrical zipper up the front, which is in stores now for $315, but which I got for $79.  In
previous posts
, I've admired the SS09 version of the skirt in glossy cotton, but I no longer have to wait till Spring for my pre-orders!
Finally, I snagged a lace see-through skirt from the original samples rack, for a mere $25.  
Other items of interest:
the pink "Souffle" dress
that I pre-ordered for fall at wholesale for $400 (it's currently in stores for $925) is selling at the sample sale for around $260.
-Tiffany